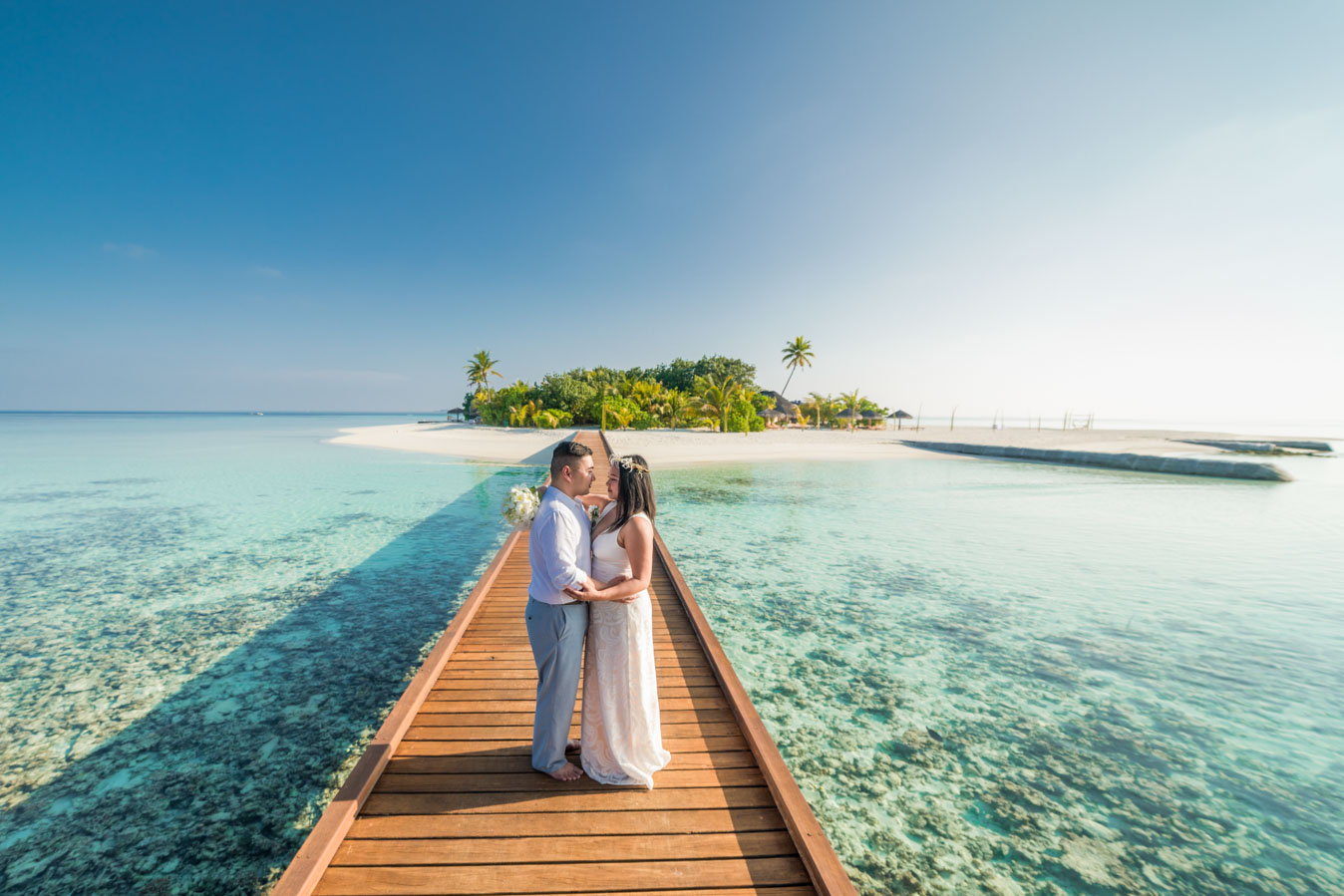 Planning a destination wedding in Maldives is even easier than you might think. Most resorts offer convenient inclusive packages, which cover everything from flowers, wedding cake, spa treatments, canoe transportation, make-up application, hair styling, dancers, wedding planner and more. These packages range from basic to elaborate and allow couples to choose an exotic Polynesian-style ceremony or a traditional Western wedding. Get married on a private beach or Sandbank decorated with tropical flowers. Ditch the traditional car, and instead ride a jet ski off into the sunset after the ceremony. Elope for an intimate ceremony, or take advantage of group discounts and plan a big celebration that includes all your friends and family.
Reception venues range from casual beachside settings to elegant air-conditioned restaurants. Enjoy an exclusive cocktail reception with friends and family sipping champagne and tasting delicious canapés. Opt for a customised wedding dinner at one of the signature dinning venues or on a private area of the beach, choose an international menu or one that showcases maldives delicious traditional dishes. And for a truly memorable reception add a traditional Boduberu show, live music and fully customised firework display over the lagoon.
Envision an intimate wedding celebration for two with a candlelight dinner on the beach, followed by a luxury boat cruise to enjoy your wedding cake and champagne under the stars.
Plan an unforgettable wedding and honeymoon, all in one! You can count on Maldives locals to make every aspect of your wedding special with their trademark warmth and hospitality. Maldives tropical splendour promises a one of a kind wedding celebration and romantic honeymoon.
Be inspired by stunning real weddings in maldives paradise and make your day unique and memorable!
Best Resots in maldives>>>>> https://phaisalphotos.com/top-resorts-to-photoshoot-in-maldives