The exotic country of Maldives is a popular wedding destination. The beautiful beaches, tranquil waters of the sea, colorful coral reefs and the fantastic resorts offer the perfect place for a romantic Maldives Wedding.
More and more people are coming to Maldives to take their vows and celebrate this occasion in a grand and elaborate manner. Wedding in Maldives is an experience that you will never forget. The beautiful surroundings of the country make your day special in every way.
Marriage Ceremonies in Maldives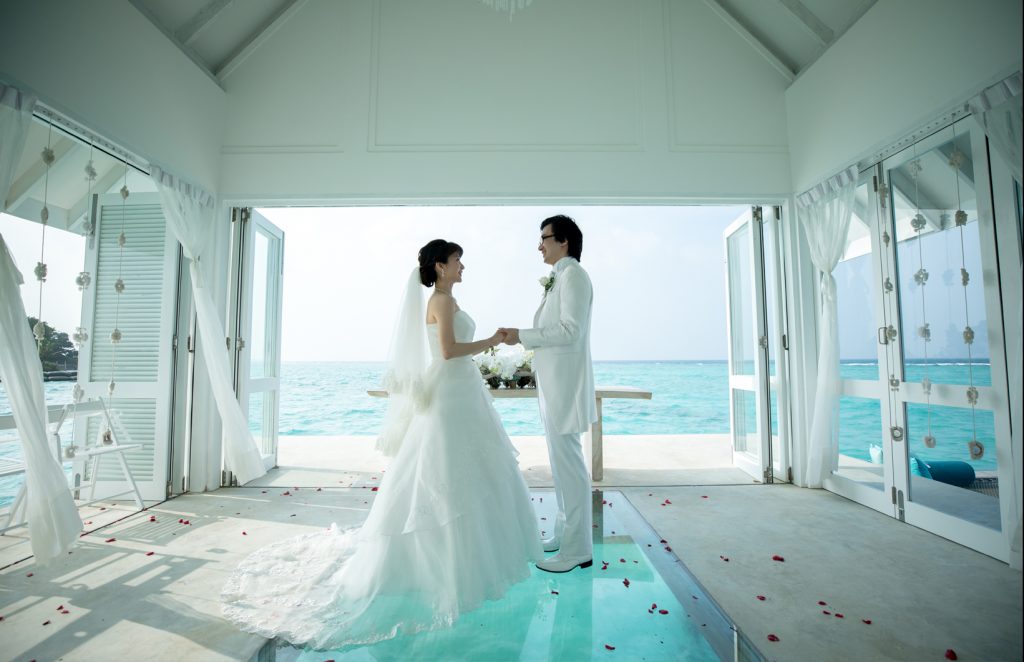 The country follows the Muslim system of marriage. The marriage ceremonies in Maldives are conducted by the Atoll Chiefs and the 'gazis'. Registered marriage is practiced in Maldives.
The marriage ceremonies are held in the mosques or in private halls. Feasts are prepared and a large number of people are invited in these occasions.
Many also serve as a wedding destination for a large number of tourists. The wedding ceremonies in Maldives are usually held in the golden beaches or in the resorts and in the hotels.
The wedding venues and the function halls are decorated with lights, balloons, colorful ribbons and flowers. Marriage is an important institution in Maldives.
There are certain rules of getting married in Maldives. The couple is escorted by four people from their rooms and taken to the wedding venue.
The bride is dressed in a white gown, while the groom is dressed in a black and white suite. Local drumbeaters are hired to perform the local traditional dance Bodu-beru.
Initially, a tree planting ceremony is conducted. The couple is taken to the plantation arena where they plant a coconut palm as a symbol of their everlasting love. After this ceremony, the couple is taken to the priest where they take their wedding vows.
After the marriage ceremony is over, the couple is offered coconut water. Thereafter, the couple is made to cut the wedding cake. Once the cake cutting ceremony is completed, the guests are offered champagne.
After all the ceremonies and wedding rituals are completed, the guests are then taken to the hall where a grand feast is laid out.
The food consists of Chinese, Italian, Thai and Indian dishes. Good music is played during the wedding receptions and the couple is made to dance with one another in these parties.
Many of the hotels have wedding packages specially meant for these newly wedded couples for a Romantic Holiday in Maldives.You can have a great Honeymoon in Maldives with your life partner and have memories for lifetime.
Maldives Wedding is a great way to understand the culture of the local people. The country is also a fantastic cruising destination for many tourists.
Best resorts to host a wedding in maldives